Multi-Cultural Bite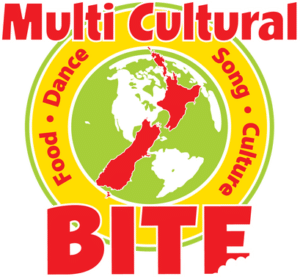 The MCB festival and community event has been running on Waitangi day here in Ashburton for the past 9 years.  Its purpose is to generate increasing levels of inclusiveness for the new arrivals in our community, to showcase the cultural diversity of our town.
The event has ethnic food stalls, each selling bite-sized pieces of their national dish for the community to sample.
The fact that it is now become a signature event for Ashburton on Waitangi day is paramount to its success.  In the words of Hon Jo Goodhew 'Waitangi Day is Multi-Cultural Bite day here in Ashburton, it's what the community recognises'
It is a festival like an event with performing arts, interactive kid's activities and the main attractions being the food stalls and the food from the different cultures. We have an entertainment schedule throughout the day full of cultural dance and song from Cuba, Samoa, Japan, India to name but a few.
The MCB is a multi-cultural festival that provides an opportunity for different ethnic groups within our community to showcase their culture.  This is achieved through performing arts, interactive children's activities and ethnic food stalls selling bite-sized portions of their national dish.  The MCB is free to attend and offers a prime opportunity for the people of the Ashburton District as well as visitors to celebrate the diversity of our town.  It also helps develop a sense of pride and belonging amongst the stall holders and cultural performers.  The event has 20-25 food stalls each selling bite-sized portions of their typical national dish for the community to sample.  The event is held on Waitangi day each year and we have between 10,000 and 14,000 pass through the event throughout the day! It attracts people of all nationalities from the Canterbury region and beyond.