We are well underway with the Marquee season, and in amongst all the quotes, emails, the deliberation over frame or peg and pole marquee, silk lining or transparent walls there comes a phone call with a hopeful, calm voice, it's a prospective customer. "Can I get a marquee for this weekend or next", they say,  without even considering or thinking that they may be booked out. 
Unfortunately, already we have turned away several people. When they realised there are none available, that once calm voice now sounds slightly annoyed, and in an awful hurry to get off the phone frantically as a mild form of panic sets in. And it's during these moments when panic causes us to make sudden rash decisions.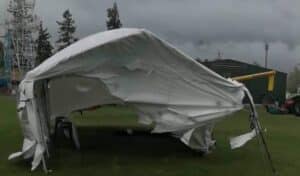 I day you would want to Forget
Indeed, it is not my attention to turn business away, but leaving it to just a week or less to book it in is like playing Russian roulette with a loaded firearm. What governs supply and demand is the wedding season, community events and of course the A & P shows throughout Canterbury and beyond, Methven Rodeo, followed by NZ Trotting Cup week, Pre-Christmas-parties and all this these squeezed into 3 months. Most of these marquees are repeat bookings a year in advance from one year to the next.
Why I can't even recommend sending you to some other competitors that use cheap and nasty versions, imported from overseas, not certified to NZ standards or more importantly made for NZ wind prone Canterbury conditions. In the last two years, we have seen countless horror stories of totally mangled and destroyed marquees (see above pic example) on the day before the event or even during the event with the bride and groom running around in tears and ending having their wedding in a shed.  Why just last week I saw a cracking video of a destroyed marquee from a dodgy supplier alongside a reputable supplier marquee standing firm and proud in the Nor-West conditions, of course, I can't name and shame that supplier.  I don't have resources to a large amount of cash to fight legal battles in court, and it's not fair to ask my directors to bail me out, so my advice is very simple to you is to book very early and choose your marquee supplier very carefully as you get what you pay for.
Call now and speak to local people with local knowledge