The below sad photo is a clear example of one of our customer's reactions after just being informed that the chiller trailers and spit roast that he desperately wanted, are all booked out for Christmas. Welcome to another day in the hire industry, and the below is a regular occurrence that we experience with the build-up to Christmas.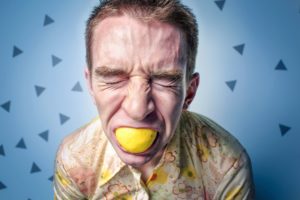 Sorry, we don supply lemons, but I know where you can buy them!
This buildup starts from mid-to-late November, especially for the party hire side of the business, stress levels take on a whole new meaning. Marketing gurus already in your favourite national store have this down to incredible art and skilfully placed, targeted these desirable items. These critical and must-have items are begging for your attention. So it is understandable, and not surprising that booking some tables and chairs, chiller trailer for the extended family is pushed aside by bright and shiny products pleading for your eftpos card. Just like a magpie's nest, these must-have items end up at your home awaiting the wrapping paper.
Back to the hire industry,  taking that frantic call from someone who realises they didn't book that chiller trailer and the other things as per Aunty Margetts instruction 2 months ago takes on a whole new meaning; certainly, there is no place for a sensitive deposition.
Tactfully juggling the bookings without the need for large doses of Paracetamol and Nurofen takes on a whole new meaning. Now, I am not saying that our hair greys prematurely overnight or we start developing a nervous twitch here and there while explaining I am afraid that item is booked out for Christmas.
My advice about any items for Christmas is getting a hurry on and book it in now.