Miracles do happen, I have seen it with my own eyes, recently our cherished horse float took on a transformation in cosmetic and physical looks as it went under the beloved viaduct at Tinwald at 40kph.
For those who are not familiar with the Tinwald viaduct, let me explain, it has ruthless death camp capabilities and deals swiftly with excavators or tractors on trailers, trucks (just ask Peter the Operation Manager for a list of casualties).  Yes, it claims that unexpected driver, perhaps having a slight moment or lapse of concentration while singing to their favourite tune streamed through the Bluetooth device while reminiscing when they were 20 years old. BANG, Reality can be a brutal teacher, and it's a miracle; there were no horses in the float at the time, and a miracle no one was hurt.
But hold on, there's more because there's is know inquiries for horse floats with alfresco tops suitable for Shetland ponies,  realising this, the directors have scraped this design and gone out and bought the new very popular locally made Helmack Supreme Horse Trailer. So out of the negative has come the positive.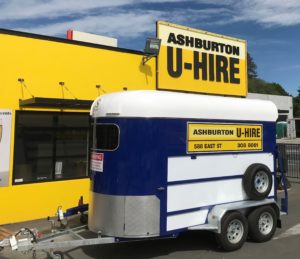 So, contra to popular belief that it will fit under this or that and be alright is not going to cut the mustard with our Insurance Company and any thought of opting out or avoiding your responsibility to pay the Insurance excess if you do happen to damage the Horse Float. Just look for the bright significant warning signage on the front of the trailer for further details.